School Board Committees Seeking Volunteers
While many of us in the greater Estero Area have children and grandchildren in other US States, there are many ways for us to be involved with our Lee County Schools.
While one of the pillars of Engage Estero is "to inform", it is more difficult to be informed about the Lee District Schools if we have no children or grandchildren in the school system. The responsibility then falls on each one of us to stay informed.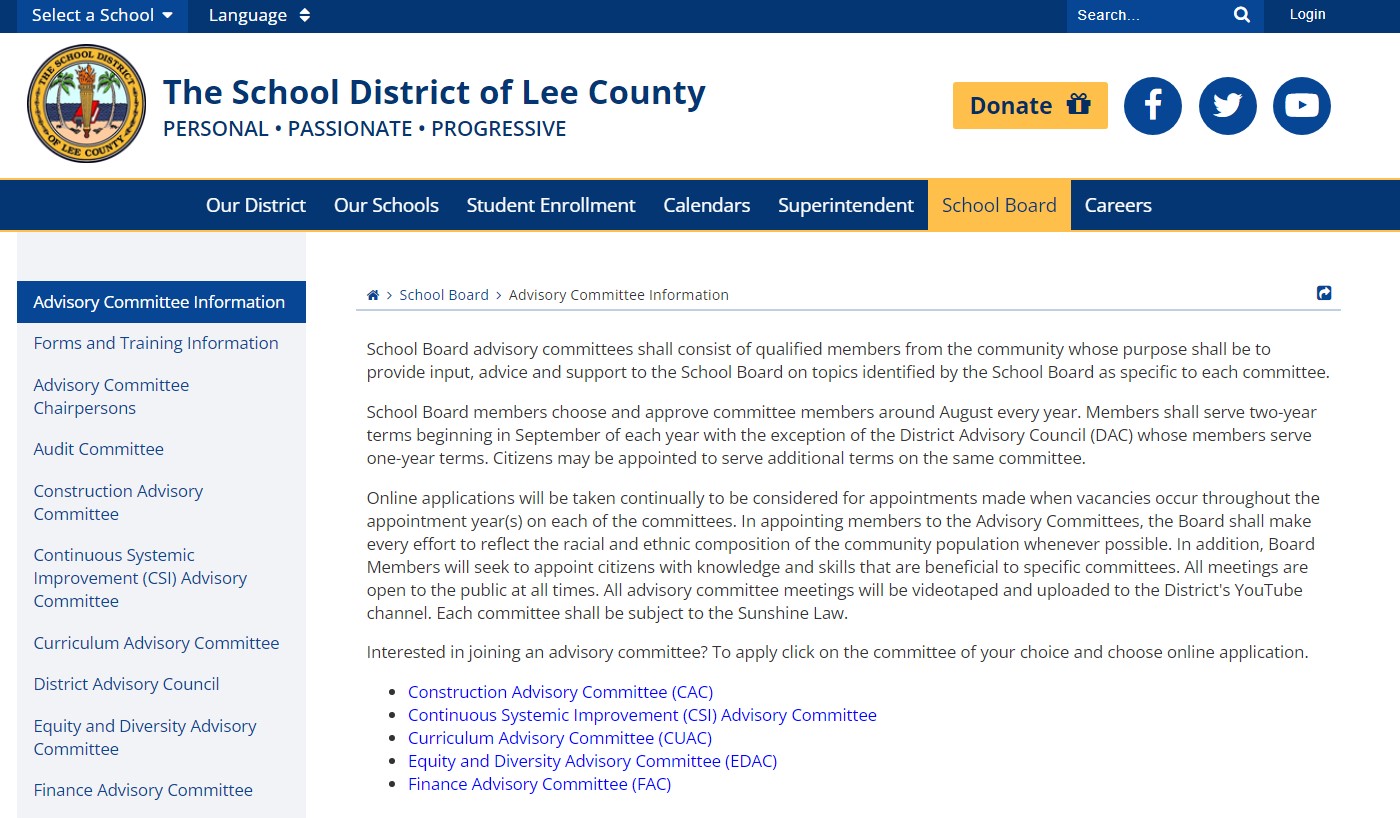 Lee District Schools web page, https://www.leeschools.net/, is the official source for district information. There is a portal for parents/guardians, and information for the public. 
From a financial perspective, you can view the annual (July 1st through June 30th) budget book outlining the projected income and planned expenses, https://www.leeschools.net/our_district/departments/business_services/budget (almost $2.5B for school year July 1st, 2022-June 30th, 2023). Monthly expenditures are reported at the Board Meetings, available in Board Docs, https://go.boarddocs.com/fl/lee/board.nsf/Public.
The website software, Board Docs, provides a calendar of upcoming Board meetings, complete with agendas and documents to be discussed at the Board meetings. Past Board meetings are also available. You can sign up to receive emails of the latest meeting updates and agendas for the Lee County School Board directly in your inbox.  https://lp.constantcontactpages.com/su/mYJevze/schoolboardmeeting.
The Board Docs link also provides information on how to provide public comments to Board meetings.
So how can we put the expertise we have from our careers and the information we research about the Lee District schools to good use? Volunteer to serve on a School District advisory committee, https://www.leeschools.net/school_board/advisory_committee_information.
From the School District website:
School Board advisory committees shall consist of qualified members from the community whose purpose shall be to provide input, advice and support to the School Board on topics identified by the School Board as specific to each committee.
School Board members choose and approve committee members around August every year. Members shall serve two-year terms beginning in September of each year with the exception of the District Advisory Council (DAC) whose members serve one-year terms. Citizens may be appointed to serve additional terms on the same committee.
Online applications will be taken continually to be considered for appointments made when vacancies occur throughout the appointment year(s) on each of the committees.
Below are the committees:
Construction Advisory Committee (CAC)
Continuous Systemic Improvement (CSI) Advisory Committee
Curriculum Advisory Committee (CUAC)
Equity and Diversity Advisory Committee (EDAC)
Finance Advisory Committee (FAC)
Audit Committee
Independent Sales Surtax Oversight Committee
The website allows you to select a committee and complete an on-line application.
Committees typically meet monthly, ~= 4pm, 60-90 minutes, 10 months a year, and some year-round, at the district headquarters building. A Board member is assigned to be the liaison, and a district staff member organizes the meetings and ensures agendas and meeting minutes are taken.
These committees are a great opportunity to serve your community and the youth of Lee County!
Engage Estero will continue our mission to build trust by providing transparency, listening to citizens, evaluating government plans and other local activities, and communicating informed and collective opinions to residents. We will research and share findings, seek opportunities, offer solutions, and challenge threats to encourage citizen engagement. 
What we do, we do with purpose, passion, and pride in our community.