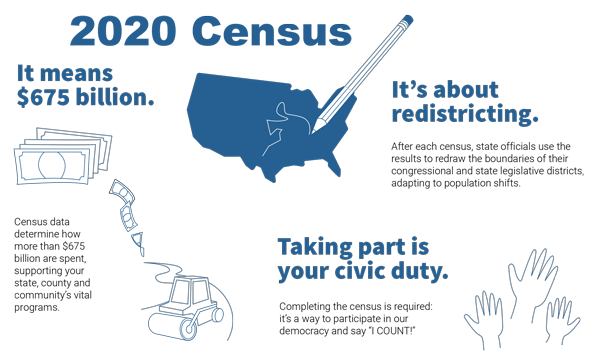 We all know how important funding is to support our state and local programs, so we are supporting the Census Bureau 2020 informational initiative to explain the importance of every head in SWFL being counted. Federal support is crucial to assist our population and Lee County is losing Billions of dollars in support due to inaccurate head counts from the 2010 census.
Please join us to see how you can help spread the word so that SWFL gets the funding necessary to support 16 vital programs such as SNAP, Medicaid,  Medicare part B – Supplemental Insurance, Highway Planning and Section 8 Housing vouchers, National School Lunch program just to name a few.
Why it's Important
It's about Fair Representation
It's in the Consitution
It's about redistricting
It means 675 billion to state, county and community programs
It's a civic duty
How it's Used
Safety and Emergency Preparedness
Business planning
Real estate development planning
When it happens/ How residents are invited to participate:
March 12–20 An invitation by mail to respond online to the 2020 Census. (Some households will also receive paper questionnaires.)
March 16–24 A reminder letter.
If you haven't responded yet:
March 26–April 3 A reminder postcard.
April 8–16 A reminder letter and paper questionnaire.
April 20–27 A final reminder postcard before we follow up in
person.