The New Estero Fire Station 45
Increased Safety for those Living on East Corkscrew Road!
The ECCL is pleased to inform you that the building of the new Estero Fire Station 45 located on east Corkscrew is well advanced and should be completed by this fall. Susan Lindenmuth, Director of Public Affairs, Estero Fire Rescue, has provided an update on the Estero Fire Station 45 Construction. You can view a construction video at Estero Station 45 Construction Tour – YouTube.
The availability of this "state of the art" fire station will be a welcome and essential facility for those living on east Corkscrew Road. Not only will it mean that response times to an emergency will be significantly reduced, but the availability of a Lee County EMS ambulance on site will also enhance the response times for emergency medical situations. As with other Estero Fire and Rescue Fire Stations, firefighters will be 24-7 on-site, and for those stationed there, they will have available:
living quarters
kitchen facilities
a day room for relaxing
patio area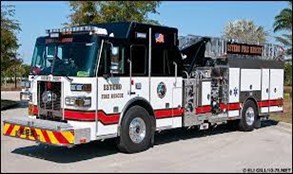 Some of the significant features of the Estero Fire Station 45 include:
A full-sized training room for in-house training and training classes open to the public
A tower training facility on site that will eventually have live-fire training opportunities
An EMS treatment room for walk-in emergencies
A designated decontamination area of bunker gear with specialized washing machines
Specially designed locker areas for the storage of firefighting equipment
Five fire engine bays have been included in the design to allow for future expansion
A sixth bay will initially be used for equipment storage but could also be developed to facilitate an additional fire engine at a future date
An enhanced design that can accommodate firefighters and equipment from other locations which might be closed in the event of a hurricane
Please take a few minutes to review the Estero Fire Station 45 Construction Tour video and its advanced facilities at Estero Station 45 Construction Tour – YouTube. Considerable thought in the design and planning has gone into developing the facility, and there is no question that it will enhance the safety of residents in the greater Estero area.
Allan Bowditch, ECCL's Chief Communications Officer.